Restylane Skinboosters™
Supple, smooth skin
Restylane Skinboosters™

Restylane Skinboosters™ improve skin quality. Restylane Skinboosters™ are based on the scientifically proven efficacy of stabilised hyaluronic acid. Skinboosters offer long-lasting in-depth hydration of the skin where it is most needed. Restylane Vital (Skinbooster) affect a gradual improvement of skin quality. Your skin will regain a beautiful natural glow.
why have a restylane skinboosters™ treatment?
Unlike corrections brought about by fillers – filling up wrinkles, adding volume, and improving contours – skin boosters are used to enhance the skin from within. Skinboosters improve the skin's quality by rebalancing moisture levels in the skin and improving its elasticity. This results in a reduction of irregularities and small lines and the creation of a supple, smooth skin. Restylane Skinboosters™ is administered in the form of hydrating microinjections with hyaluronic acid, thereby replenishing natural hyaluronic acid-reserves and improving the skin from within for the long term.
Results
Long-term in-depth hydration
Redressing moisture balance
Reduction of irregularities and small lines
A supple and smooth skin
Reduction of acne scars and sun damage
Areas
The face
The neck
The lips
The hands
The throat/décolletage
This treatment consists of a series of very fine injections administered by one of our specialized physicians. Restylane Skinboosters improve the quality of your skin through deep-tissue hydration, the effects of which extend to the skin surface. Your skin becomes smoother, firmer and more elastic and radiates like never before.
A radiant skin in two simple steps (2-treatment regimen, 1 ml per cheek each time). As opposed to regular wrinkle treatments, Skinbooster treatments comprise a gradual process, slowly but surely improving the quality of your skin. The prices advertised in the videos might differ from our current prices.
| | |
| --- | --- |
| Preparation: | 30 minutes before treatment arrival |
| Aneasthetic: | Yes |
| Duration: | 20 minutes |
| | |
| --- | --- |
| Pain (0-10): | 4 |
| Product: | Hyaluronic acid |
| Safety: | Extremely safe |
| Duration of the results : | +/- 12 months |
About hyaluronic acid
Hyaluronic acid appears naturally in the human body. It has a great capacity to bind water. Hyaluronic acid attracts water molecules, keeping the skin hydrated. In addition, it provides elasticity and firmness to the skin. With age, however, the amount of the body's natural reserves of hyaluronic acid becomes depleted. This can result in lacklustre and/or dry skin.
Who is a candidate for Restylane Skinboosters™?
Restylane Skinboosters is a diverse product range, suitable for both men and women, targeting every possible skin type: for the young and the old, for the face, neck and throat, for lips, hands or upper chest/cleavage. Skinboosters is also suitable for skin in need of structural improvement, such as a skin scarred by the effects of acne or damaged by the sun.
Natural result
Skinboosters ensure an especially natural-appearing result. Although they do add a tiny bit of volume to your face, their prime advantage is that Skinboosters rejuvenate and hydrate the skin. The hyaluronic acid stimulates the collagen in your skin. This supplies you with a healthy glow and a radiant skin. The subtle volume gives your face a natural lift, keeping in line with your natural contours.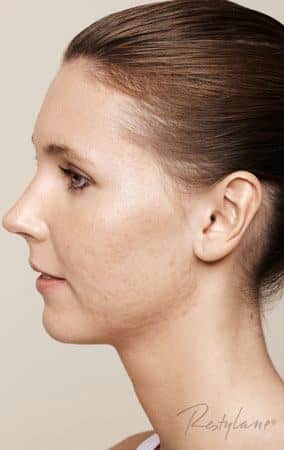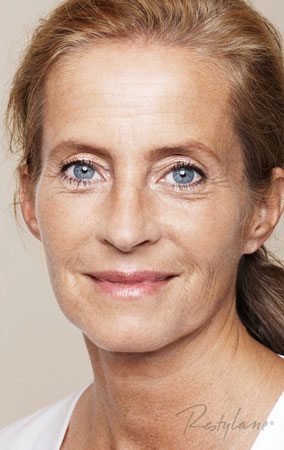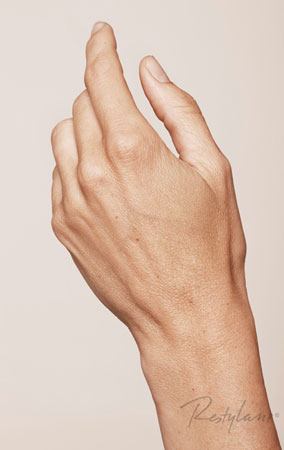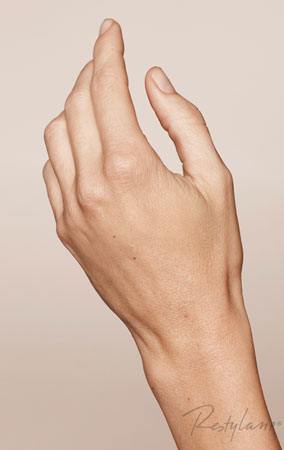 Before and after the treatment
Our advice is to arrive half an hour in advance of a Skinbooster treatment. This gives us time to apply an anaesthetic cream on the treatment area and for the cream to kick in. Our tip to avoid bruising is for you to take the maximum dose of Arnica drops starting five days before treatment and to avoid all food supplements, vitamins and fish oil. We also recommend you not ingesting any alcohol from 48 hours before a Skinbooster treatment. Make sure to avoid all blood-thinning medication, if necessary in consultation with your family doctor, for a full week before the treatment. Blood-thinning medication includes Naproxen, Ibuprofen and Aspirin.
You can cool the treated area directly after a Skinbooster treatment. Our doctors will provide ice packs. Avoid sunlight for the first week (this includes tanning beds) and saunas. Use a sunblock of 30 SPF or more on a daily basis. During the first 2 weeks following treatment, we advise you to avoid beauty or skin therapy treatments at a beauty salon. After two weeks, we will be glad to welcome you back to our clinic for a check-up appointment.
Some swelling can occur. Naturally, the risks of swelling increase with the number of fillers injected. Swelling can last up to a few (3-7) days. In addition to swelling, bruising can occur. You may cosmetically cover any bruising a few hours after treatment.
The final result should be visible after approximately two weeks. Afterwards, the Princess filler will start to dissolve slowly. The best result is after two treatments. After an average of 12 months, a follow-up treatment may be scheduled.
Free intake
It is our policy to make it easy for you to get acquainted with The Body Clinic. We offer free, no obligation intakes with one of our physicians to familiarise yourself with the attending physicians and to find out more about the treatment, recovery time, what to do or not to do before and after treatment, and possible alternatives for treatment. If there are no medical objections, and you want to go ahead, the physician may carry out your treatment on the same day, after your health has been charted and pre-treatment photographs have been taken.
Safety
Hyaluronic acid has been used for years in the cosmetic and medical sectors. Its effectiveness and safety have been proved time and time again in countless clinical trials. The hyaluronic acid formula used in Restylane Skinboosters is based on the most documented, non-animal hyaluronic acid in the world: Restylane. Since 1996, Restylane has grown an international profile, with 16 years of research to its name. They are not shy to admit Restylane has been used to carry out over 15 million treatments.
| Treatment | Price |
| --- | --- |
| Restylane Skinbooster Vital 2 ml | € 400 |
| Restylane Skinbooster Vital light per treatment | € 400 |