Earlobe rejuvenation
Natural rejuvenation
Earlobe rejuvenation
Everyone knows that with age the skin becomes slack and wrinkles appear. The earlobes are no exception to this, unfortunately. Loss of volume in the ears can affect their shape. Thin and wrinkly earlobes can prevent the wearing of earrings and can make a person look older than they feel. With the use of injectable fillers the earlobes can regain their original firmness.
Why rejuvenate the earlobes?
When the earlobes lose their firmness, it's easily visible. Vertical marks will appear, giving the appearance that a earring hole has torn. If you mind this look, earlobe rejuvenation is a relatively simple and efficient treatment for you.
Our physician will put the volume back into the earlobe with a few pricks of filler. The result of this relatively simple treatment is immediately visible and lasts for about a year.
Before we can treat you, we will map out your health via a questionnaire. Subsequently, we will take pictures for your personal file. We advise you to arrive thirty minutes in advance of your treatment so we can apply a numbing cream known as Emla. After you have given the doctor consent for treatment, you will receive 3 or 4 injections in your earlobe. After your doctor has massaged the area, you will have time to cool the earlobe. Please note that prices advertised in our videos might differ from current prices.
| | |
| --- | --- |
| Preparation: | Please arrive 30 minutes before treatment |
| Anaesthetic: | Yes, cream |
| Duration: | 20 minutes |
| | |
| --- | --- |
| Pain (0-10): | 1 |
| Product: | Hyaluronic acid |
| Safety: | Extremely safe |
| Duration: | +/- 12 months |
Natural result
Because we only restore the volume that has been lost over the course of time, nobody will suspect that you have undergone an earlobe procedure. The earlobes will once again assume their natural shape after a hyaluronic acid filler has been injected. Moreover, hyaluronic acid hydrates and rejuvenates the skin. It is also the only type of filler that can be actively dissolved. Should you be dissatisfied with the results, this allows for the filler to be dissolved a week later.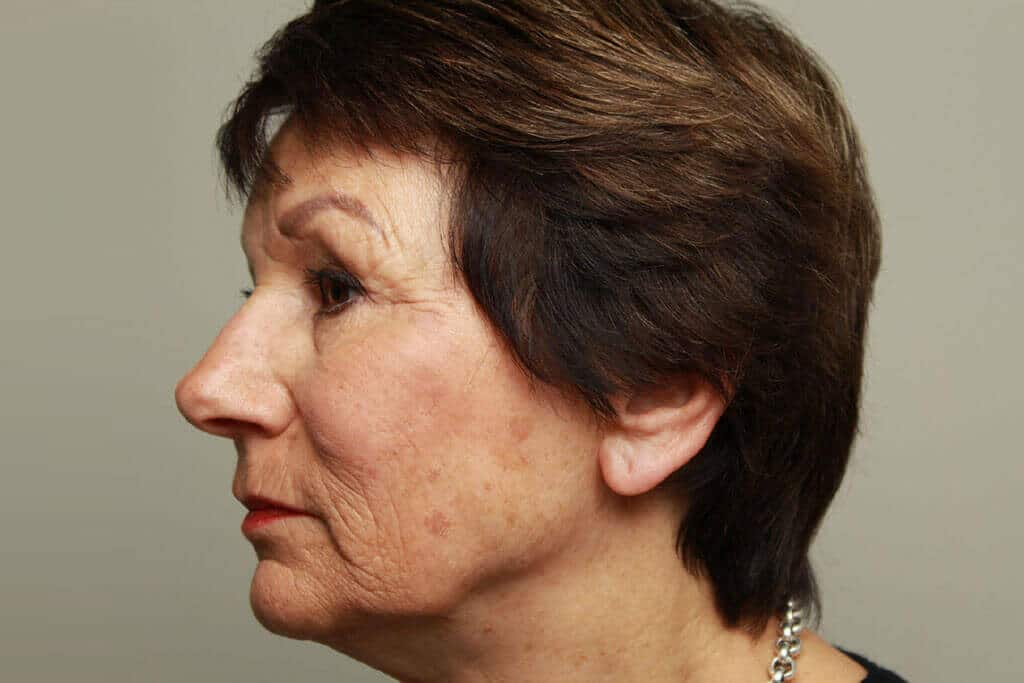 Before and after the treatment
If you wish to be treated directly after your consultation, please make sure to arrive 30 minutes in advance of your appointment so that we can apply a numbing cream. To reduce the chances of bruise formation, you can take Arnica drops starting five days before your procedure. You are also required to quit the intake of any fish oil, vitamins or dietary supplements for five days before your treatment. The same goes for the use of Aspirin, Naproxen and Ibuprofen. If you need to take any of those on a regular basis, consult your family physician. We advise you not to consume alcohol for two days leading up to your treatment.
You may apply make-up two hours after the procedure. It is wise to avoid contact with direct sunlight for the first week. This also counts for sunbeds, tanning salons and saunas. We advise you to not book any facial beauty treatments at your beautician's or skin therapist for the first two weeks post-treatment.
Redness of the skin, swelling or bruising are rare occurrences with this type of treatment. Earlobe rejuvenation is quick and easy and may be considered a lunchtime treatment for good reasons. Should there be any bruising, you may cosmetically camouflage this.
The effects of a hyaluronic acid filler treatment will last for approximately twelve months. After this, you may schedule a follow-up appointment. The specific effect duration can differ from person to person.
Free intake
It is our policy to make it easy for you to get to know The Body Clinic. This is why we offer a free, no obligation intake for all, so you can familiarise yourself with physicians and learn more about a treatment, its possible side effects, results or consider alternative options for treatment. Together with your physician you will come to a carefully considered choice, one to match your situation best. There are options for treatment immediately following the intake, if you decide to go ahead.
Safety
When making an informed decision about the correct temporary filler for an earlobe treatment, our professionals at The Body Clinic pay attention to the following attributes. It is important that a large number of physicians have used it and over a longer period of time. In addition, it is a bonus if the filler used can be actively dissolved. Restylane is one of the fillers that meets all these requirements. It was one of the very first fillers to be permitted onto the European market. As a matter of fact, Restylane has been here for over thirty years and many tens of millions of procedures have been performed with Restylane since. No notable side effects of the product have ever been reported.
Treatment
Price
Earlobe rejuvenation with hyaluronic acid
€ 500
Earlobe rejuvenation with hyaluronic acid
in combination with another area
€ 300
FAQ
How do I know if I qualify for an earlobe correction?
If you have loss of volume in the earlobes, the lobes dangle, or they seem to have a tear in them, you can opt for a filler treatment for your earlobes. Filling the earlobes gives you a younger look, in particular when wearing earrings.
How long will I enjoy the results of my earlobe treatment?
The results will last for approximately a year. Sometimes a little touch-up is required.
What are the costs?
At The Body Clinic this treatment costs 300 euros.