Profhilo
Natural anti-aging treatment
The Profhilo® treatment
Profhilo® is a new type of hyaluronic acid which bears unique properties, making it perfect for anti-aging treatments with natural results. Like many other treatments, Profhilo® helps reduce the physical and visible effects of the aging process. However, Profhilo® sets itself apart with the introduction of "thermal cross-linking", which makes the hyaluronic acid resistant to hyaluronidase, an enzyme which naturally degrades hyaluronic acids and collagen. This ensures your Profhilo® treatment will bear a long-lasting effect.

Why should you choose a Profhilo® treatment?
The primary reason why you should opt for a Profhilo® treatment lies in the method. Profhilo® employs a unique method of cross-linking hyaluronic acids, rising above the competition in lasting value. Next to providing a longer-lasting effect, Profhilo® is also considered safer than non-crosslinked alternatives. This is because Profhilo® contains no chemical additives, lowering the risk of a physical reaction.
This relatively new type of hyaluronic acid stimulates the production of several types of collagen (type 1, 3, 4 and 7) and elastin within cells such as keratinocytes and fibroblasts. Furthermore, research has shown Profhilo® to have a stimulating effect on the differentiation and survival of stem cells and adipocytes. These effects do not occur when undergoing a traditional hyaluronic acid treatment.
Profhilo® spreads to the relevant areas through a sub-dermal injection, making the procedure extremely simple and easy to bear for our clients. In most cases, an amount of 2ml will be spread out across 10 points of injection, for example 5 injections on each side of the face. A facial massage will not be necessary in these cases, because the gel spreads by itself. Because of the low number of injections during a Profhilo® treatment and the option to avoid vascular risk areas, the risk of haematomas is extremely small.
Profhilo® contains two different hyaluronic acids (32 mg hyaluronic acid of a high molecular weight and 32 mg hyaluronic acid of a low molecular weight). Because the treatment combines multiple types of hyaluronic acids, it can stimulate the biology of your skin. This effect only occurs in combination. In other words, the whole is greater than the sum of its parts.
Preparation

:
None

Anaesthesia

:

Not necessary. But if you desire anaesthesia, please be present 30 minutes before your treatment.

Procedure duration

:
15 minutes
Pain (0-10)

:
2
Product:
Hyaluronic acid
Safety:
Extremely safe

Effect duration

:
+/- 12 months
The areas
The Profhilo® treatment has numerous applications for improving the quality of your skin.
This treatment is most popular when dealing with the facial area, neck, upper arms and hands. We charge the same rate for all of these areas. The cost of treatment comes at €350 per treatment (2ml).
We recommend follow-up treatments starting one month after your initial treatment, which usually come down to three treatments. We can also schedule a touch-up procedure every six months.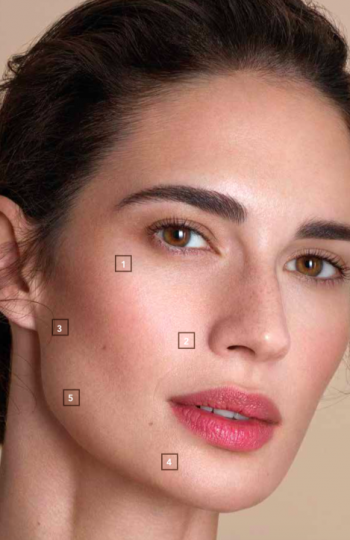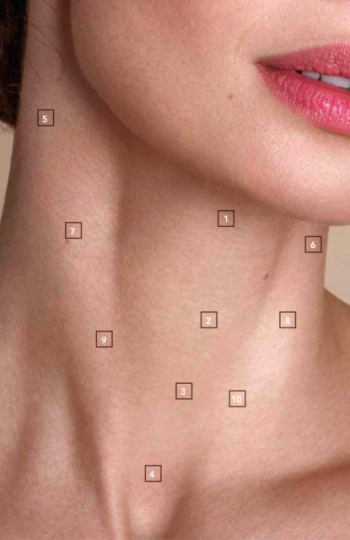 Natural result
The Body Clinic's Profhilo® treatment is a highly safe treatment that delivers an organic, anti-aging result. We like to point out the safety and quality of this innovative treatment, as Profhilo® won the Aesthetic Awards in 2016. Its new method of thermal cross-linking (without BDDE) delivers a longer-lasting effect compared to treatments that use non-crosslinked hyaluronic acids. Its safety comes from the fact that Profhilo® consists solely of pure hyaluronic acid, no additives. This way, you profit maximally from the natural results of this treatment.
Usually, anaesthesia is not required for your Profhilo® treatment. Should you desire anaesthesia anyway, we recommend you arrive half an hour in advance, so that we can apply the numbing Emla cream. To avoid potential bruising after your treatment, you can start using Arnica drops five days in advance of your appointment. Next to this, we also advise you to quit any food supplements, vitamins or fish oil capsules for 5 days before your treatment. If possible, you should avoid blood thinning medication, such as aspirin, Naproxen and Ibuprofen. If this is not possible, please consult your doctor. Finally, it is imperative you do not consume any alcohol for 48 hours before your Profhilo® treatment.
During the first 3 days after your treatment, we advise you steer clear of the sauna, hammam or swimming pool. You should also refrain from sunbathing during this time. Furthermore, we urge you do not undergo any intensive treatments during the first 48 hours following your Profhilo® treatment. This includes peels, facial scrubs, microdermabrasions, laser treatments and deep tissue massages.
Although Profhilo® treatments rarely result in any complications, there is a slight chance of inflammatory response. This can include skin redness and swelling, which can lead to itchiness and pain. These symptoms can remain for 3 to 5 days. Small bumps sometimes form on the points of injection, or you might experience some skin hardening around these areas. Should these complications take longer to subside, feel free to contact your attending physician at any time.
The results of a Profhilo® treatment are visible for about 12 months, the effect gradually wearing off during the latter months. Results may vary per person. The recommended follow-up treatments start after a month. These add up to two or three treatments in total. Afterwards, you can decide to schedule touch-up treatments, which would take place every six months.
Free intake
Stop by for a free intake session at The Body Clinic, where you and your treating physician will discuss the possibilities, benefits and potential side-effects of a Profhilo® procedure. During this session, we will fill you in on all the details of an anti-aging treatment. This way, we will make sure you have realistic expectations when deciding. We like to think our transparent and realistic approach is one of the reasons why we have helped thousands of satisfied clients: The Body Clinic holds a 9 out of 10 rating. We will take some pictures, walk you through the procedure and map out your health. After you have consented to treatment by your attending physician, you will have the option to start the procedure straight away.
Safety
Carrying out a Profhilo® treatment is an extremely safe process. Because the gel contains no additives, the risk of bodily reactions is very small. Some of the hyaluronic acids we use have a molecular mass of 45kDa or more, which gives them an anti-inflammatory effect. Furthermore, the treatment is very quick and easy to tolerate, and comes with a low chance of haematomas (bruising).
We offer our anti-aging Profhilo® treatment at the cost of €350 euros. Our fixed price applies to a 2ml procedure, for both your first treatment as well as a possible follow-up treatment. This way you know what price to expect when going in for your Profhilo® treatment.
| Treatment | |
| --- | --- |
| Profhilo 2ml (neck or face or hands) per treatment | € 350 |
| Profhilo 2nd treatment 2ml (1 month after initial treatment) | € 350 |
What is Profhilo®?
Profhilo® is an anti-aging treatment that utilizes a large amount of pure hyaluronic acid, without chemical additives. The rejuvenatory effects of Profhilo® are due to the fact that it stimulates the production of collagen (firmness) and elastin (elasticity) within the skin. Your skin becomes firmer and healthier across multiple (sub)dermal layers. A Profhilo® procedure makes it possible to rejuvenate the skin without increasing the volume of your face. By strictly using hyaluronic acid in its natural form, the skin is repaired and skin laxity is reduced.
Which areas are suitable for Profhilo®?
The Profhilo® treatment is suitable for treating saggy skin in the face, neck, chest and hands area, or even on the upper arms. This results in a very natural appearance, firming up the skin and giving it a nice sheen.
What is new about Profhilo®?
In 2016, Profhilo® won the Aesthetic Award for most innovative treatment. It established a whole new way in which we treat hyaluronic acid, which brings out very specific qualities. Because of the organic nature of pure hyaluronic acid, Profhilo® lowers the chance of side-effects whilst ensuring a natural result.
How the treatment works?
During this procedure we employ the BAP-technique. This refers to making 10 injections in anatomically determined locations in order to achieve an optimal result. Profhilo® spreads itself out without external help, so only a small number of injections are needed to treat the entire face (or neck, chest and other areas). The treatment time is very brief, nearly painless and bears a low chance of side-effects due to the nature of the product used.
For who is this treatment recommended?
The treatment is well recommended to those over 30 who want to combat skin laxity. It is also a fine option for men and women who want that rejuvenated effect but who are not willing to make the jump to a "real" filler just yet. In addition, Profhilo® can be combined with filler or Botox treatments and as a follow-up to other treatments as well.
When can I expect results?
Only two to three treatments are needed, interrupted by a one-month break, all depending on the level of skin aging. Because your skin is working on itself during this period, you will not observe the treatment's results immediately. However, you will notice that your skin is more hydrated. From six to eight weeks following your first treatment results start to appear. This is because the production of collagen and elastin takes time.
How long does the Profilo treatment effects?
How long the Profhilo® treatment's effects last depends on the condition of your skin. We recommend scheduling a follow-up treatment once or twice a year in order to hang onto the results, as the natural aging process continues on regardless.
Are there any side effects?
Hyaluronic acid is a substance that is naturally found in the skin. Therefore, the injected hyaluronic acid is easily tolerated by the skin. Any possible side-effects of the treatment include mild swelling, skin redness and the occasional minor bruising. Possible side-effects are more often caused by the injections themselves than the product, and they will disappear rapidly.
Make an appointment
If you wish to schedule a Profhilo® treatment in Amsterdam or Duiven, you can reach us directly at the number below. We will also be happy to schedule a free and non-binding intake session. If you do not want to call, you can fill out the contact form on the Appointment page. Our cosmetic surgeons will be glad to take you in for a Profhilo® treatment in Amsterdam or Duiven.
To schedule an appointment or a free intake session, you can reach us at our phone number or fill out the contact form on the Appointment page.